Imagine if restaurants could pop up out of nowhere? Imagine if they wandered from house to house, to a pretty warehouse or a different location each week and the only way you knew about it was to keep an ear out, check out a blog online, leave secret messages (or an email will do) or whisper in hushed tones to your friends? What if the food came secondary (yet still of high quality, professionally home-made food?) and the setting came first? Well you'd appreciate the whole experience that much more. That's the idea behind the pop up restaurants, an underground restaurant scene where the most important thing is meeting new people, sitting in a stranger's home and sharing the long lost art of enjoying a good meal together. Doesn't that sound lovely?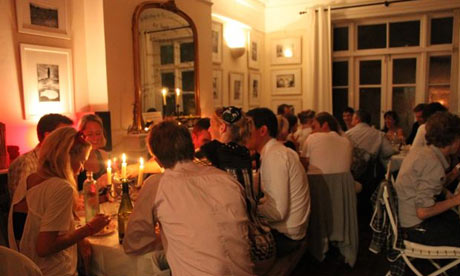 Image Source www.static.guim.co.uk
Content Source www.tablefor20.blogspot.com
Related trends:
If you like this trend, you might also like 'Dining to Infinity and Beyond!', 'A Green way of Dining' and 'Urban Restaurant Gazing'.

Submit your comment